Thief's Fall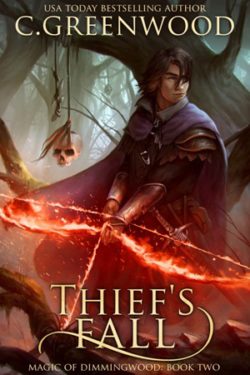 Magic of Dimmingwood, Book 2
C. Greenwood (March 23, 2017)
ISBN-13: 9781544899831 ♦ ISBN-10: 1544899831
ORDER PRINT: Amazon | Barnes & Noble | The Book Depository | B-A-M | IndieBound
ORDER EBOOK: Kindle
Discovered. Destroyed. Reborn.
After losing his brother and being murdered by his enemies, Rideon thought there was nothing left that could hurt him. But he soon discovers life only gets more dangerous after death. Restored by magic, he must trek through a hostile wilderness while stalked by a deranged wild man. His only possessions, a cursed bow and a powerful amulet, prove as treacherous as they are necessary.
Driven by the need to find his young brother before their enemies reach the boy first, Rideon must enter dangerous territory and risk the wrath of the ruthless thieves' guild and its cunning king.