Clash of Catalysts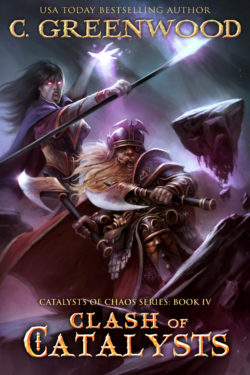 Catalysts of Chaos, Book 4
C. Greenwood (December 15, 2016)
ISBN-13: 9781541172081 ♦ ISBN-10: 1541172086
ORDER PRINT: Amazon | Barnes & Noble | The Book Depository | B-A-M | IndieBound
ORDER EBOOK: Kindle | Nook | Kobo | iBooks
Darkness has fallen over Earth Realm. As the evil sorcerer Rathnakar prepares his final move against mankind, the oracle of Silverwood Grove musters an army to counter him. She sends Geveral on a journey to a distant mountain fortress to forge an alliance with a winged race of dragonkin.
Meanwhile, Orrick is captured by his enemies and put on trial for treason. Having failed to locate the one person who can prove his innocence, the barbarian's time is running out.
Alone now, Eydis faces her greatest struggle as mistress of masks when she is forced to battle a powerful and familiar foe.
Even as the three catalysts are drawn inexorably toward their ultimate destinies, four armies meet on the plains of Endguard. Their clash will determine the fate of Earth Realm.