Thief's Curse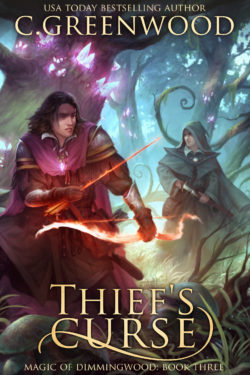 Magic of Dimmingwood, Book 3
C. Greenwood (May 3, 2017)
ISBN-13: 9781546502180 ♦ ISBN-10: 1546502181
ORDER PRINT: Amazon
ORDER EBOOK: Kindle
Damaged. Rebellious. Vengeful.
When Rideon's scheme to rescue his brother goes horribly wrong, he forms a new plan—one that turns former allies into foes. Rebelling against the rule of the cunning thief king, he steals the dreaded Thief's Blade and leads a dangerous faction of the guild on a new mission. But the past isn't done with Rideon. A new opportunity for vengeance beckons.
After the ambitious son of a noble offers a tempting deal, a deadly bargain is struck, leading Rideon down a treacherous path. Can he resist the call of darkness, control the magic of his cursed amulet, and hold together his growing band of followers? Or will one final gamble bring about the end of Rideon the Red Hand?