Legends of Dimmingwood Series: Books 1 – 3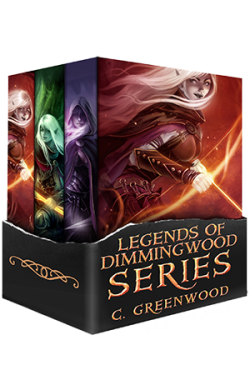 Legends of Dimmingwood, Box Set
C. Greenwood (March 7, 2014)
ORDER EBOOK: Kindle | Nook | Kobo
Book 1: Magic of Thieves — In a province where magic is forbidden and its possessors are murdered by the cruel Praetor, young Ilan, born with the powerful gift of her ancestors, has only one hope for survival. Concealment. In the shadow of Dimmingwood, she finds temporary protection with a band of forest brigands led by the infamous outlaw Rideon the Red Hand.
*******************************
Book 2: Betrayal of Thieves — Ilan has narrowly escaped her last encounter with the soldiers of the evil Praetor but many of her outlaw friends have not been so fortunate. When her closest companion is dragged off to Selbius for execution, Ilan has no choice but to defy the captain of the forest brigands and journey to the stronghold of her enemies.
*******************************
Book 3: Circle of Thieves — In the wake of a painful betrayal, Ilan abandons her friends among the river people to return to the peace of shadowy Dimmingwood. But things in the forest are not as she left them. A deadly new enemy is attacking the local villagers, threatening the very existence of the forest outlaws.